Green Lake: Reflections from the Surface of China
Preface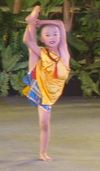 hat's it like to be in China? -- indeed, to live in China?

That's what prompted these reflections, that and the desire to share them. Who is not curious about China? And what about cities that are not Beijing and Shanghai? Yunnan province -- where's that? Kunming? -- you say that is where the Flying Tigers were based? Is this Green Lake actually green?

Historically, there was the "Call to China," a phrase used specifically to denominate the urge that missionaries felt for centuries to convert the heathen Chinese to the true path. The phrase has been parodied (read on) by a witty Ivy League professor who has observed students currently in university. But the phrase can be detached from missions and parodies and used instead to describe a more general wish -- shared by much of the world -- to plant one's feet on the ancient soil of the Middle Kingdom.
Yet there is a second way to answer the Call, and that is to read about China. There is literally no end of reading to be done, nor will there ever be. Marco Polo, though he travelled overland, launched oceans of reading. Every year out pour tomes on the future of, the past of, and the present of China. No doubt this number is not as great as the number of shoes pouring out of factories in Shenzhen (a metropolitan area of 18 million, up from 30 thousand in 1980), but both numbers are remarkable. The world continues to be fascinated by China.

Look inside: Living Language Mandarin / Guide
Travel
In the present book, the two answers to the Call are combined. Feet on Chinese soil in one chapter, nose in books about China in the next. To put it another way: layers of experiences year-by-year, mainly in one exceptional province of China, alternated with layers stimulated by others, many of them famous, who came to this exceptional province before we did. The year-to-year contain dates occasionally, but these are for the most part unimportant: the goal here is not historical documentation -- far from it -- but to portray a flow, a rhythm quotidian, of living in and contact with China for any extended period. Those who are ready to arrive today, and those contemplating such a possibility in the future, will confront a different flow, but my hope is that the description here will stimulate curiosity and that it will also do that for those who incline towards but a quick visit or even those who are content to stay home and view from afar.

Finally, not all these reflections are from the surface: I fell into the lake at one point, as the reader will soon discover.
Look inside: Jeffrey Wasserstrom / Timothy Brook

Look inside: chocolate: Adora dark / Kind dark

Look inside: China Future?

Look inside: Ubiquiti networking / Netgear networking